We will have in person and Facebook Live streaming service this Sunday, May 23rd.
We are taking every precaution to safeguard your health, per the CDC guidelines for reopening.
​
Per Governor Northam's Executive Order masks or face coverings will be required while in the church building.
​​
Seating

Every other pew will be left open to maintain 6 ft. distance in front and behind.

Only members of a household can sit together. Everyone else must maintain 6 ft. side to side.

We will not have bulletins, hymnals, nor will we pass the collection plate in an effort to keep potential cross-contamination as low as possible. Offering plates will be placed by the sanctuary doors for you to drop off any giving there.

We ask that you refrain from all physical touching – no handshakes, fist bumps, or hugs.

We will continue to livestream services on Facebook Live.

If you have any reservations or are in the at risk population, we encourage you to watch our Facebook Live broadcast.
We are an active church with events for all age groups. We enjoy spending time together in teaching and in fellowship. We value events that reach our community with the gospel of Jesus Christ.
For a video of this week's sermon click here!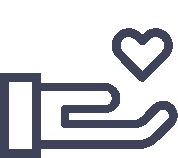 "Whoever is generous to the poor lends to the LORD, and He will repay him for his deed."